Mesh Complications Patient Story 8
Leg and Groin Pain following TOT sling
Mesh Complications: Severe leg, groin and vaginal pain since sling placement
Treatment: Complete sling removal

The patient is a 48- year-old woman who had surgery for stress urinary incontinence (leaking with laughing, coughing, sneezing, exercising, etc) following a TOT sling procedure. She was referred four weeks later to Drs. Moore and Miklos for evaluation secondary to severe leg and groin pain.
The TOT sling uses an obturator approach (groin) where needles are passed through the groin to place a sub-urethral mesh tape sling to prevent stress urinary incontinence. On rare occasion since the needles are passed through the groin, (i.e. less then one %) they may cause severe pain in this area due to either injury or irritation to the nerve (obturator or branch), or because the sling is too tight and pulling on the muscles in the vagina and groin. If the pain is severe and does not improve then, the surgeon needs to consider removing the sling.
On physical exam, the patient was found to have extreme vaginal, groin, and leg pain on the left side when the sling was palpated. In an attempt to prevent chronic pain syndrome and with the patient's the approval, the sling was removed in its entirety in the operating room the following day. The patient had immediate pain relieve postoperatively.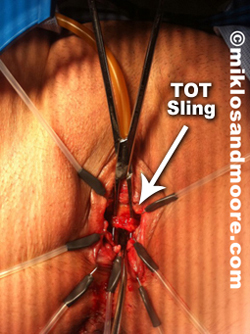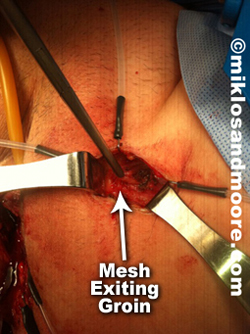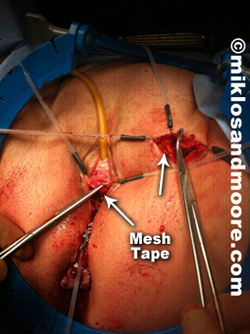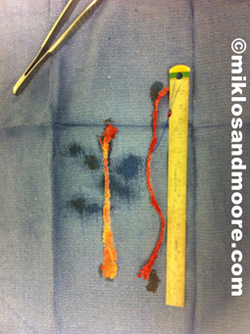 Click here to find out more about TOT Sling complications.
Click here for related patient stories